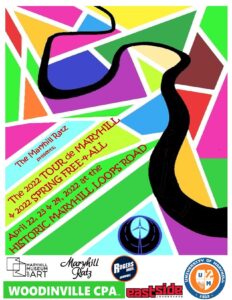 April 22, 23 and 24, 2022
The Tour de Maryhill is a international downhill racing event at the Historic Maryhill Loops Road near Goldendale Washington. Maryhill is a GGA Certified Event and will include The Maryhill Mennis, an Uphill Scramble.
A Free-4-All is just as it sounds, anything goes. This event is open to all skill levels and all gravity powered vehicles are welcome.
Do you like riding in large packs? Then the Free-4-All's are for you! The pack riding at a Free-4-All is legendary so come and be a part of some of the largest packs anywhere in North America, and quite possibly the world.

Tour de Maryhill – Practice Times
Click here for practice times…
Registration
Registration is now closed – the event has sold out.
THERE ARE NO REFUNDS! MAKE SURE YOU CAN GO BEFORE YOU REGISTER!
Entry fee includes…
3 days of safely riding the famous Maryhill Loops Road
A timed run for a chance to qualify for the Tour de Maryhill
A personalized laminated badge and lanyard
A Maryhill Ratz water bottle, refill it throughout the weekend!
A hot, grilled lunch each day, non-meat options are available
Camping at the bottom of the hill
Breakfast each morning
Free entry to Club HueyLove, with DJ HueyLove spinning tunes and dancing into the night
THERE ARE NO REFUNDS! 2nd PARTY SALES ARE NOT ALLOWED! Be sure you can go before you register. If you purchased an entry and cannot go contact the Ratz at [email protected]
Leathers are REQUIRED as are a full face helmet, gloves. We will offer the "no leather tax" of $20 for the weekend (paid in cash on site as a donation to the EMT's), which will allow you to ride the hill without leathers. Anyone racing MUST wear leathers during their race runs.
Spectators and supporters are welcome and food and beverages available on site.
Schedule for the weekend (times may change)
Friday

8:45 Riders meeting
9:00 am to 4:00 pm – Open riding
4:00 pm to whenever we finish – Timed qualifying run

Saturday

9:00 am to 5 pm – Open riding
5:00 pm to finish – Tour de Maryhill Racing

Sunday

9:00 am to 5:00 pm – Open riding
We will try and get as many runs as possible each day. Remember we can get more runs in if we limit our time hanging out at the top of the hill. As you know from previous years, this event happens rain or shine.
TOUR de MARYHILL
On Friday April 22, the freeriding will end about 4 pm, and timed qualifying will begin.
Everyone should be able to get a qualilfying time. The maximum racers per class is 24, if there are more than 24 racers in a class, only the top 24 times will race.
On Saturday, April 23, those that qualified will race after the freeriding on Saturday. we will run the racing after the freeriding ends.
We will be racing the following classes, Standup – Mens, Standup – Women, mens Luge, womens luge, adaptive and inline.
We will run additional classes (masters, jr's, ect) during the freeride portion, if there are enough riders.
Maryhill Mennis, An Uphill Scramble
Electric skateboard racing returns to Maryhill! Watch these 50+ mph monsters take on both the curves and the grade of the infamous Maryhill Loops Road.
The Rest…
Please note, for fire safety, generators cannot be placed directly on the ground and MUST be placed on a piece of wood or stand.
Our heartfelt thanks goes to The Maryhill Museum of Art and The Wolfe Family for all they do for us.
We also want to thank our sponsors, Woodinville CPA, Eastside Longboards, Skate School of Santa Fe, The Rogers Brothers and all of you, our fellow Ratz for coming out and supporting this event.
Please contact the Ratz for sponsorship opportunities.
Registration is closed – event has sold out.