Are there safety personal on site?
Yes. The Ratz Medics, EMT's Karen and Mark, have over 10 years' experience treating the special needs of the athletes. You can find them in the Ratz Medic tent at the bottom of the hill across from the HQ/Registration tent. Transport to a local hospital is available for the more serious injuries (yes serious injuries can occur, just take a look at what we do).
Is there fire danger?
The fire danger at the Loops Road is always very high. Every year a fire comes near or destroys property near the hill. There are no open flames or smoking allowed anywhere on the property.
Once I purchase my ticket, can I get a refund?
We are sorry, but once a registration fee is purchased we do not allow refunds. Please be sure you can attend before you purchase tickets. Please contact us if you have any questions.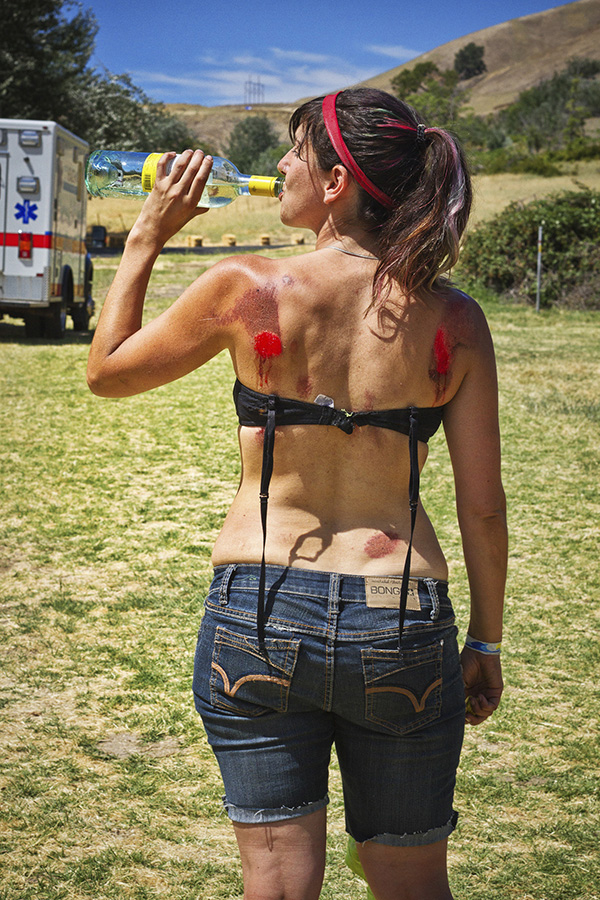 What safety gear is required?
Leathers, or similar full suit, a full face helmet, gloves and shoes are required. If you are feeling daring and like road-rash, you can choose to pay a "No Leather Tax" of $20. This "tax" is a contribution to the Ratz Medics, Karen & Mark, to cover the costs of the additional bandages they go through when riders do not wear leathers. If you choose not to wear leathers, you do so at your own risk.
Can I hike the hill?
There is no hiking the Loops Road during a Freeride.
Do I have to start from the top of the hill?
No, you do not need to start from the top. If you want to start somewhere else on the hill and work your way to the top, come to the Ratz HQ and we can arrange that for you. If you want to develop your skills, think about attending the University of Maryhill, it is well worth it.
Is there cell service at the hill?
Depending on your carrier, you may or may not have cell service at the hill.
Who owns the Maryhill Loops Road?
The Historic Maryhill Loops Road is owned and operated by the Maryhill Museum of Art. Please contact the Museum and let them know how much you appreciate them allowing us to use the hill, or better yet dig into your pockets and send them a donation.
What is the weather like?
The weather at a Maryhill Freeride can be anything from blistering hot to soaking downpours to near freezing temperatures at night. The Maryhill Ratz Freerides happen rain or shine so sure to check the weather ahead of time and plan accordingly.
Are there orange or banana trees at Maryhill?
No there are no banana or orange trees at Maryhill. That also means there should be no orange or banana peels on the ground when you leave. Please pick up your trash and make the hill cleaner than when we found it. Trash cans and recycle bins are located throughout the grounds.
How fast is Maryhill?
Top speed is just under 50 mph when there is a strong tailwind. The wind direction plays a huge role in the top speed on any given day.
Is food available?
Lunch is provided for athletes and volunteers and is available for everyone else for a small donation.
Is water available?
Although there is no running water at the hill, but drinking water is available to refill containers. Commemorative water bottles are provided to the athletes and volunteers .
Can I bring my kids?
The Freerides cater to riders of all ages and skill levels! Riders as young as 6 have enjoyed Marys curves. We do have family friendly parking and a family friendly lounge, the Ratz Nest. The other athletes generally don't bite and are more than willing to give some helpful advice to the up and coming riders.
How do I get to the Historic Maryhill Loops Road?
Check here for directions to the hill.
Where do I eat and sleep?
Click here for our list of campgrounds and restaurants.
Are spectators allowed?
Yes. Take a hike up the Cow Trail through the Mischief parking area to the most famous corner in downhill skateboarding. Cowzers Corner is a spectacular place to view the pack riding that makes a Maryhill freeride famous around the world. If you keep your eyes peeled, you might just see a little carnage. Please stay off the road and follow to the corner workers directions. If you wish to see more of the hill, please talk to someone at Ratz HQ for access.
Are pets allowed?
Your furry friends are more than welcome as long as they do not cause trouble. Please make sure they play well with others and please keep them on a leash. Ticks are very common in the area so be sure to check everyone for ticks when you get off the hill. Trouble makers will be asked to leave.