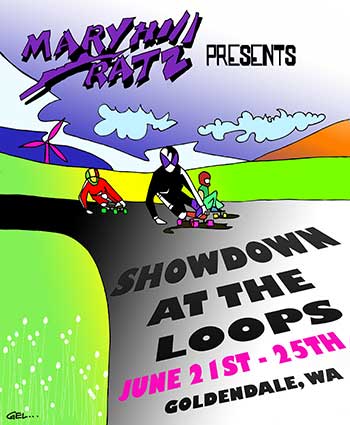 The Maryhill Ratz present
The Showdown at the Loops
An international downhill skateboard race
At the Historic Maryhill Loops Road
June 21st – 25th, 2016
The Maryhill Ratz are pleased to announce the 2016 International Downhill Federation (IDF) World Cup Qualifying sanctioned race at the Historic Maryhill Loops Road.
This is a IDF event, IDF rules apply and you will have to be a IDF member to race. Go to http://www.internationaldownhillfederation.org/ for more information and registration.
Here is the tentative schedule. All times/classes are subject to change.
Tuesday June 21 – 9am – 5pm; Freeride
Wednesday June 22 – 9am – 5pm; Freeride, Classic Luge (non-IDF)
Thursday June 23 – 9am – 5pm; Timed Qualifying, Masters – 40 and up (this is NOT IDF sanctioned masters racing, no IDF points will be awarded)
Friday June 24 – race to qualify
Saturday June 25 – Races; Uphill Push, Open, Women, Jr. 15 to 17, Jr. 14 – under, Luge
$10,000 Total Cash Purse!
The Town of Goldendale will again be hosting camping at the Ekone Park and breakfast will be provided. Other activities will be scheduled so be sure to check back for more information.
Stay tuned for more details
See ya there!
www.ponderosamotelgoldendale.com/main_page.html
http://goldendalechamber.org/main_page.html